By Anson Vuong and Di Yin Lu

This post is part of Gallup's ongoing series on the shifting landscape for financial institutions. It provides insights into channel optimization, emerging customer behaviors and preferences, product penetration and relationship growth, engaging the most critical affluent and business customers, and reshaping banks' overall value proposition.


In today's challenging economic climate, banks are working hard to meet the needs of their most loyal customers. While it is definitely important to focus on these customers, banks are missing out on valuable revenue opportunities with "switchers" -- customers who have changed their primary bank in the last 12 months.
Cost-benefit models led banks to believe they are better off without switchers, who represent 14% of bank customers. However, an analysis of demographic and wealth data from Gallup's most recent Retail Banking Industry study suggests that switchers are too valuable for banks to lose.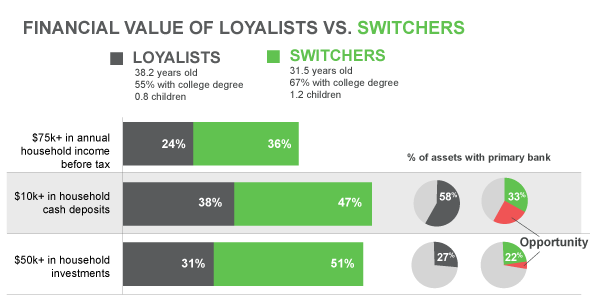 The demographics of switchers suggest they have a high-potential future lifetime value for a bank. Switchers, on average, tend to be younger, more educated, and have more children than their loyalist counterparts. Switchers, on average, are 6.7 years younger than loyalists, are more likely to have a college degree, and have more children.
When it comes to finances, switchers are more likely to earn at least $75,000 in annual household income than loyalists, 36% vs. 24%. Switchers also have higher total household cash deposits and more total household investments than their loyalist counterparts.
Although switchers have more cash and investments than loyalists, switchers tend to keep less cash deposits and investments with their primary bank. Instead, they spread their assets around with many financial institutions. Switchers who have at least $10,000 in household cash deposits keep 33% of them with their primary bank. This compares with 58% for loyalists who have the same level of household cash deposits.
And switchers with at least $50,000 in household investments keep even less -- 22% of them -- with their primary bank. This compares with 27% for loyalists who have the same amount of household investments. Thus, a bank's ability to capture switchers and convert them into loyalists represents a significant financial opportunity.
Switchers possess vast untapped potential for their current primary banks to capture.
In upcoming posts, Gallup will explore other prevailing questions around switching behavior in banking, including what kind of primary banking relationships they have, and which banks are the ones actually being left and for who. Gallup will also reveal what the driving force is behind switching.
Labels: banks, Focus on Financial Services